Constantine Season 1 Episode 1: "Non Est Asylum" Review.
"The Demons he fights aren't just his own"
We got to check out the screening of the pilot episode, "Non Est Asylum", of NBC's new series Constantine (you can check out the trailer here) whilst at NYCC in October. The series is based on the much beloved Vertigo character of John Constantine and the widely popular and successful Hellblazer comic series. In the spirit(s) of the season here is my take and review of "Non Est Asylum". [Beware the full episode SPOILERS below]
Where better to meet our protagonist the Master of the Dark Arts…sorry I mean petty dabbler…John Constantine (Matt Ryan) than at Ravenscar Asylum the psychiatric facility where he's getting probed about his state of mind by Dr. Roger Huntoon (Miles Anderson). He's been perscribed therapy of an electrical nature to help him forget, oh, and he wants to forget the events (and guilt) of his botched exorcism of a young girl named Astra (Bailey Tippen) in Newcastle. The demon (Nergal) conjured on that fateful night by Constantine damns Astra and himself to hell! Here at Ravenscar we get our first glimpse of the down-to-earth John Constantine who is portrayed with aplomb by Matt Ryan. He grabs this character by the trench coat and strikes a great balance between a wicked dry wit, being endearing and protective yet a jerk whilst all-the-time expressing himself with a tasty language peppered with generous amounts of swearing. He's also not afraid of some self-harm (he wanted, no he asked for, the electric therapy). Even down to the tone of the character with the khaki trench coat, blond hair, the occasional trails of cigarette smoke (he is after all a chain smoker) and his Northern English accent Constantine feels and looks special. Believe it or not this is our hero or anti-hero who will fight against  demons and ghouls in a battle to save humanity from the world of evil…and he's great! For me Matt Ryan is excellent as Constantine pulling off that ever so difficult balancing act of fan expectation and delivering his great performance of this much loved character.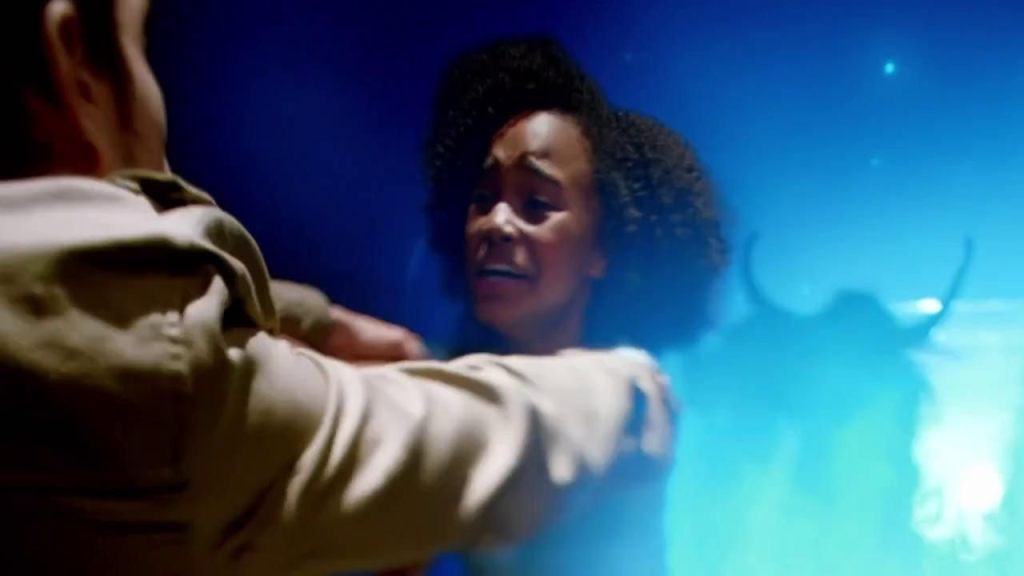 Whilst at the asylum another patient becomes possessed by an entity that we discover to be an old dead friend, Jasper Winters, that leaves a message for John in paint (don't worry not blood) on the wall "Liv Die". This event thrusts him back into the fray as Jasper's daughter, Liv Aberdine (Lucy Griffiths), becomes the target of supernatural forces. Liv provides the audiences perspective on John Constantine in this episode as she grapples to understand who this seemingly strange man babbling weird references to the occult is and flees from John despite the demon tracking her. The persistent world weary John Constantine does not take no for an answer and he soon uses his trusted friend and companion, the very interesting Chas Chandler (Charles Halford), to protect Liv. We also get to see Constantine's dubious angel "friend" Manny (Harold Perrineau) that nicely provides insight in to the possible season arc for the series as he warns John that all is not right in purgatory and danger is on its way. Manny also opens up Constantine's past and the torment and guilt that drives him to do what he does.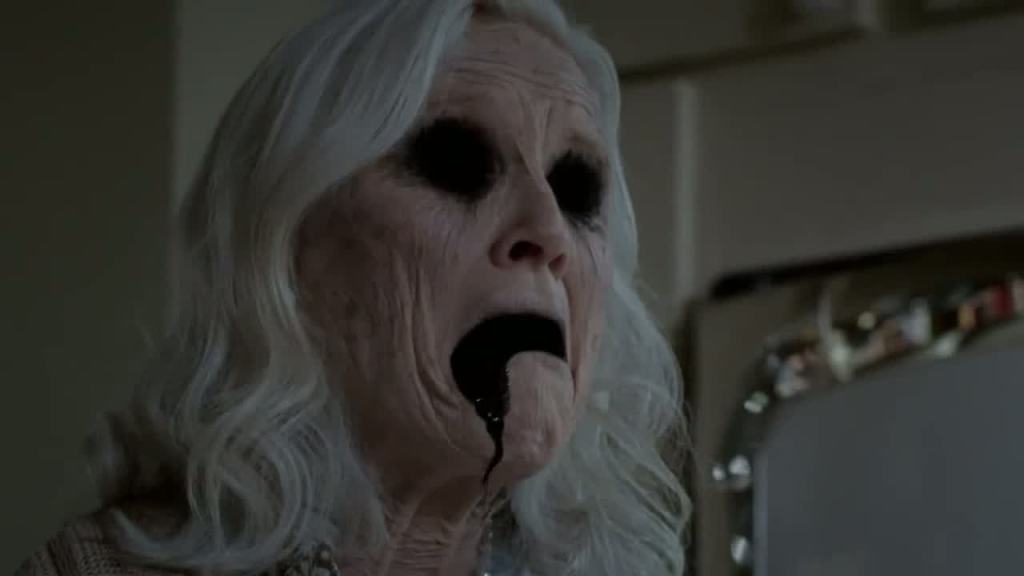 It is not until the death scene and possession sequence of her neighbour and friend that Liv begins to trust Constantine. At the same time her own supernatural powers begin to develop as she can also tap in to the spirit world exposed to Constantine after he gives her a pendant from her father and this sets up a nice little confrontation with her granny from hell! As the identity of the demon chasing Liv, known as Furcifer, is revealed the demon's ability to draw power from and control electrical power and objects leads to the shocking death of Chas as he trys to save Liv from the demon. They seek refuge at Constantine's mill house and here we are treated to an absolute treasure trove of objects from the DC occult universe. The one that brought the largest cheer from the Empire stage at NYCC 2014 was Doctor Fate's helmet of Nabu which looked amazing. As John warns Liv "…it is incredibly powerful and not to be trifled with." It certainly is and show runner David S. Goyer hinted that someone will come to John's door to collect the Helmet of Nabu. This is fantastic news and leads us to ponder could it be Kent or Inza Nelson, maybe Hector Hall or will it be someone else? We shall soon find out! Other Easter eggs littered throughout the mill house (as well as through the rest of the episode and this review) included the Ibistick (the magic totem of the Eqyptian God Ibis), the Mask of Medusa and many others including a sly nod to the magical DC character Zatanna and, more specifically, the way she casts spells by saying backwards phrases.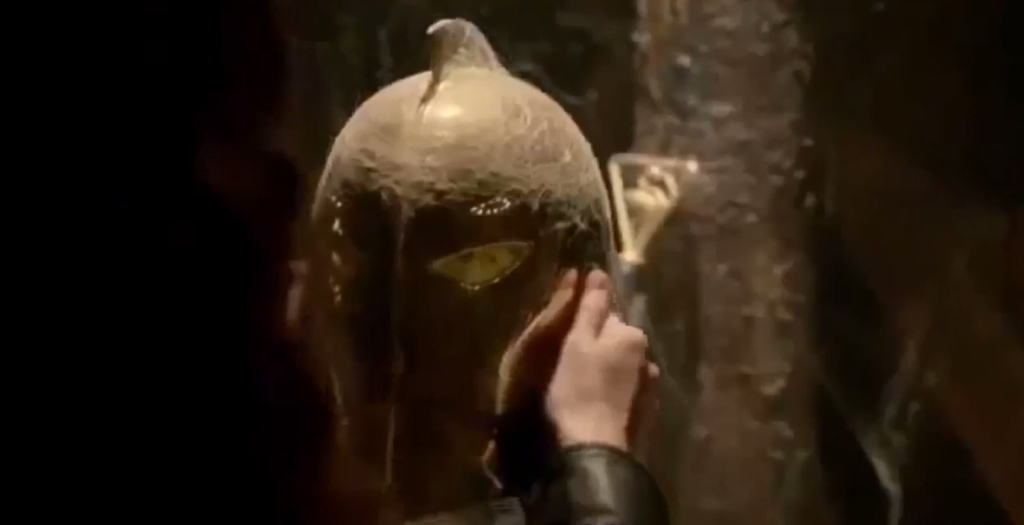 Clearly, there is a respect for the source material which is awesome for this series and for those excited to see John Constantine brought to life by the excellent actors, crew and creators behind the show. This respect for the graphic novels certainly extends beyond the Easter eggs in the episode (of which there many), but also in the establishment of the horror and occult themes that we are looking forward to and expect of Constantine. The tone and feel of the show is also great and the scares are well paced and genuinely scary. Given NBC also produces Hannibal and with horror director Neil Marshal behind camera for this episode, the show would appear to be in very good hands. This is also true of the special effects and CGI which look great in the episode, in particular, the rain drop scene between Constantine and Manny, and the flashbacks to Astra being taken to Hell.
As events build to the confrontation between Constantine and Furcifer, John forces his old mate, Ritchie Simpson (Jeremy Davies), a drug dependent, paranoid university professor to help catch Furcifer using Liv as bait. They are also aided and abetted by Chas who is very much alive and has returned because of his special, and as yet unknown, "survival skills". Whilst John and Liv wait to catch Furcifer, in a demon seal, he exposes more of his personal turmoil and guilt as we discover that his mother died during his birth. His guilt leads him to admit his need to see her again. In the final showdown as Furcifer arrives, the demon attempts to barter Liv's life for Astra but is thwarted by Jasper's pendant that reveals a trap to Liv. An angry John signals Ritchie to shut down the city's power grid that controls Furcifer's life source, as his spell sends Furcifer violently back to hell. Constantine vows to come for Astra and Nergal, the demon responsible for her death.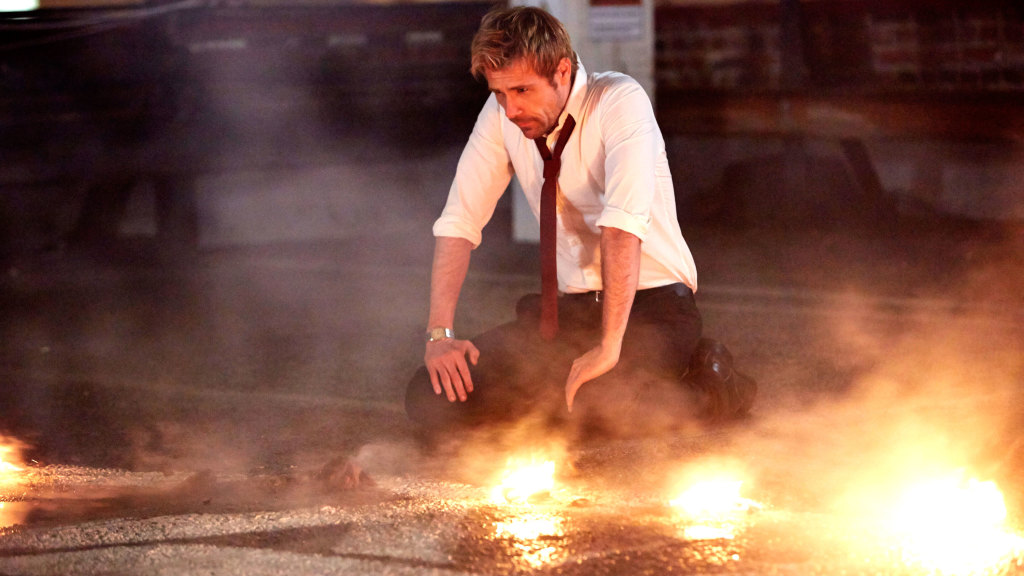 Liv decides to leave returning the pendant amongst other items back to John to continue his work. He admits scaring her off on purpose, believing that exorcising is not for everybody. However, this part of the episode does feel the weakest. It's a bit like the rug has been pulled from under your feet and it is simply because of the need to amend this section of the episode to allow for the change in leading character (for genuine reasons) from Liv to Zed for future episodes. It feels slightly at odds that for all the character and background set up of Liv and the energy expended to protect her life in the episode – she leaves! That being said these things can happen when moving from pilot to regular series and these kind of tweaks are certainly a once-off given that more than 10 episodes are now complete. Indeed, the changed ending sets up Zed (Angélica Celaya) really nicely as the episode closes with a woman furiously scribbling and drawing some (iconic) images of John Constantine; and each bears the same signature, Zed Martin.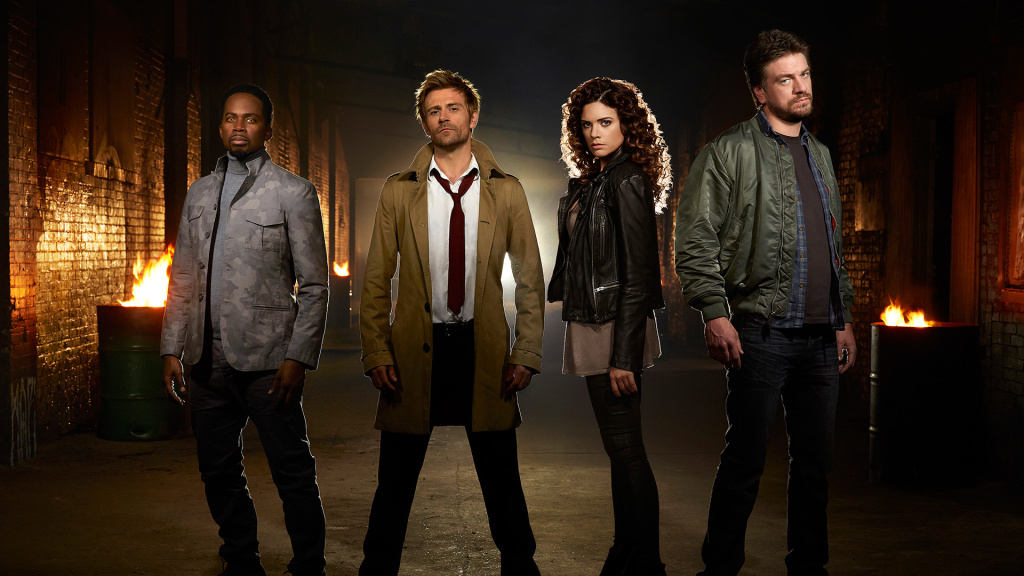 Overall, whilst the ending suffers slightly down to the changes forced through re-casting, this doesn't detract from an excellent series opener anchored by the excellent portrayal of John Constantine by Matt Ryan. He is both witty and acerbic, whilst also protective and endearing and I can't wait to see more of Constantine on the small screen. Matt Ryan is joined by a solid and exceptional cast of actors that includes the faithful and not so faithful friends of John Constantine portrayed by Charles Halford and Jeremy Davies, respectfully, and Lucy Griffiths provides a good counter point to Constantine that brings the audience in to his world. The nascent story arc reminiscent of American Gothic from the graphic novels is dealt with lovingly and respectfully; in the same way that there is great fun to the Easter eggs teased throughout the episode. We can't wait to see more of John Constantine battle demons, ghouls and evil.
Constantine, starring Matt Ryan, Angélica Celaya, Harol Perrineau and Charles Halford, airs on NBC in the USA and will return next Friday 7th November for episode three "The Devil's Vinyl". Constantine is also available in the UK through Amazon Prime Instant Video the day after broadcast in the USA. There is, unfortunately, still no confirmed broadcaster for Constantine in Ireland but we'll keep you posted of any developments.