So it's been a long time since Nintendo last launched a home console, 2012 to be exact, and we all know how that went.. (The Wii U was a major flop). Not one to throw in the towel, Nintendo are back with their brand new home console in the form of the Nintendo Switch. Although they made the console semi-official back in October of last year, it was early on Friday the 13th of January, 2017 that we got a lot more info on the device along with its official launch date, launch/upcoming titles and pricing. Below are the facts we know so far.
Design
The Nintendo Switch definitely doesn't look like your generic home console, that's for sure. Anyone who's familiar with the Nvidia Shield will see some similarities between the two devices. It's a bit on the chunky side but Nintendo were never know for the sleek and stylish consoles. Also, like the Shield, the device can be hooked up to your TV so you can play your games on your big fancy HDTV.
The way in which you connect your Switch to your TV is extremely easy, just sit it into the dock and you can immediately start playing your games on the big screen. When docked, you pop of the ends/sides of the device, called the Joy-Con, to attach to the controller mount (which is basically a big battery pack) to continue playing or you could also pick up a standalone, more generic-looking controller, called the "Switch Pro".
Going back to the Joy-Con controller, which will be available in multiple colours, it is made up of two slender controllers which both have a joystick and 4 button layout (just like the new Nintendo Switch logo). The controller, albeit quite big when it's fully assembled, will give you plenty of playtime. The two detachable controllers can also be used independently and have motion tracking built in, a bit like the Wii controllers we all know.
Nintendo has also introduced depth-sensing sensors so the controller knows where it is in relation your body, and a new style of force feedback that Nintendo claims can perfectly mimic the clink of ice in a glass.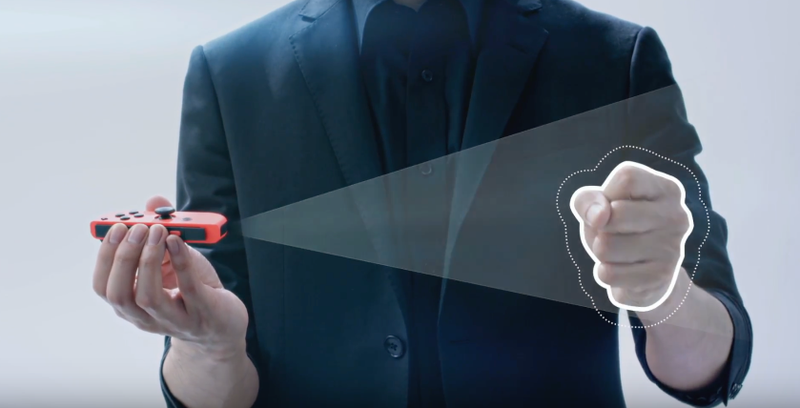 Nintendo also plan to launch a paid-for online service later in the year for the Switch also, just like Xbox Live and Playstation Network. They're also offering 1 free game a month from their downloadable back catalogue but you unfortunately won't be able to keep each game after the month is up which is a weird decision on Nintendo's behalf.
Specs
When it comes to detailed specs, Nintendo are remaining surprisingly tight-lipped. below is a breakdown of the specs we know:
The Switch features a 6.2″ 720p capacitive touch panel.
It charges via USB-C.
There's 32GB of storage built in but this is expandable up with the use of Micro SD cards.
The games for the device will come in the form of cartridges, much like 3DS games.
Battery life will depend on the game, with Nintendo saying it could last anywhere from 2.5 hours to 6 hours.
Wi-fi is, naturally, built in, and the system will support linking up to 8 Switches together for old fashioned wireless multiplayer gaming.
The system runs on a custom processor from Nvidia that's rumoured to be based on the architecture in the Shield tablet and console.
UPDATE – 27/1/14: Nintendo have released more detailed specs for the Switch which you can find below:
Size: 102mm x 239mm x 13.9mm (with Joy-Con attached)
Weight: Approx. 297g (With Joy-Con controllers attached: 398g)
Screen: Capacitive touch screen / 6.2 inch LCD / 1280×720 resolution
CPU/GPU: NVIDIA customised Tegra processor
Communication features: Wireless LAN (IEEE 802.11 a/b/g/n/ac compliant) / Bluetooth 4.1
Video output: Maximum resolution: 1920×1080, 60 fps
Audio output:
linear PCM 5.1ch
Stereo Speakers
USB Type-C terminal
Headphone jack
Game card slot: Exclusively for Nintendo Switch game cards.
microSD card slot: Compatible with microSD, microSDHC and microSDXC memory cards.
Sensors: Accelerometer / gyroscope / brightness sensor
Operating environment: Temperature: 5 – 35°C / Humidity: 20 – 80%
Internal battery: Lithium ion battery / battery capacity 4310mAh
Battery life: Battery life can last for more than six hours, but will vary depending on the software and usage conditions.
Charging time: 3hours approx.
Games
Wanting to make the most of the new tech in the controllers, Nintendo have created a few games to show off the new abilities. There's 1-2-Switch, which was developed in-house and Arms, a fighting game that lets you battle an opponent in an arena, a bit like a more advanced version of the boxing mini game in Wii Sports.
https://www.youtube.com/watch?v=k7s3UB_8dFM
Splatoon is also getting a sequel on the Switch but won't be released until later this year. Mario Odyssey is also another game coming out for the device later this year but the one that's going to shift consoles is The Legend of Zelda: Breath of the Wild which has been confirmed as a launch title for the device.
Xenoblade Chronicles 2 and Fire Emblem Warriors are also coming to the device but we don't have confirmed release dates just yet. Mario Kart 8 is also drifting on the the Switch (see what we did there) but it's basically a ported version of Mario Kart from the Wii U with some new tracks and characters and is set to launch on April 28th.
Below is a list of all the launch titles (yes, there's only 5 available the day the console launches) coming to the Nintendo Switch when it launches on March 3rd:
The Legend of Zelda: Breath of the Wild
1-2 Switch
Super Bomberman R
Skylanders Imaginators
Just Dance 2017
Another three games come out in March:
SnipperClippers
Fast RMX
Has-Been Heroes
Pricing & Availability
The Nintendo Switch launches March 3rd, 2017 and can be pre-ordered now from the likes of Gamestop and Smyth's with the price appearing to have settled on €329 and games priced at €69, much like the pricing seen for Xbox One and PS4 titles.
Are you guys going to be picking one up? Let us know in the comments below.